Pipeline Emergency Information
Although pipelines are the safest mode of overland transportation, it is critical to be mindful of proper procedures that should be used when responding to a pipeline emergency.
Identifying the pipeline:
Check for pipeline markers posted nearby. (Caution! The pipeline marker may not show the exact location of the underground pipeline.)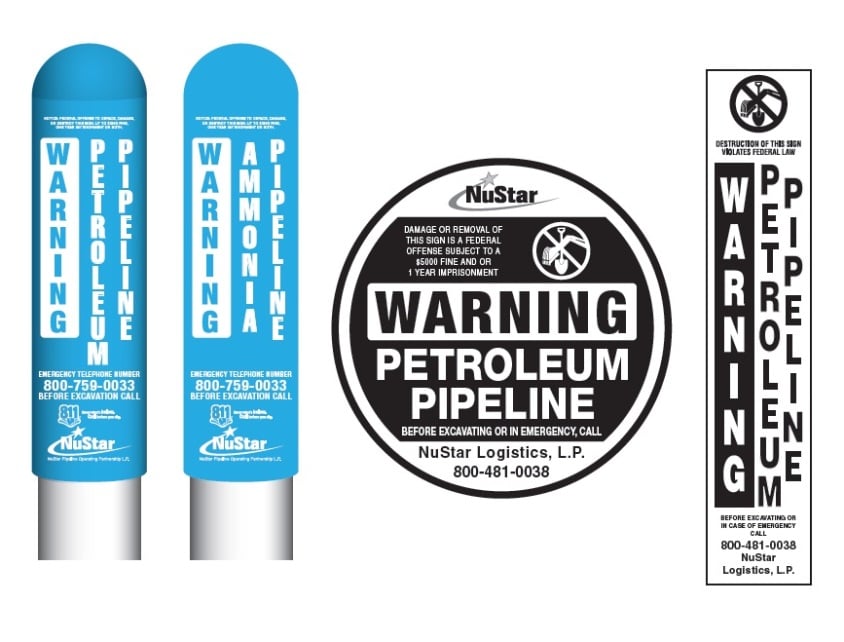 NuStar operates pipelines under the following names:
NuStar Logistics, L.P.
NuStar Pipeline Operating Partnership L.P.
NuStar Terminals Operations Partnership L.P.
Shore Terminals LLC
Recognizing a leak:
By Sight: A pool of liquid on the ground near a pipeline, a dense white cloud or fog over a pipeline, or discolored vegetation surrounding the pipeline may be signs of a leak.
By Sound: An unusual noise coming from the pipeline, like a hissing or roaring sound, may be a sign of a leak.
By Smell: An unusual smell may accompany a pipeline leak.
What to do if you suspect a leak!
Leave the leak area immediately.
Do not touch, breathe, or make contact with leaking liquids.
Do not light a match, start an engine, use a telephone, switch on/off light switches or do anything that may cause a spark in the area or vicinity of the leak.
From a safe location immediately call 911 and the NuStar Pipeline Control Center at 800-481-0038 and report exactly what you have seen, heard or smelled and where this incident or event took place.
Warn others but do so without entering or re-entering the area where a pipeline leak is suspected.
Do not drive any vehicle into a leak or vapor cloud area.
Do not attempt to operate any pipeline valves yourself.
Do not attempt to extinguish a petroleum product or natural gas fire. Wait for local firefighters and other professionals trained to deal with such emergencies.