Commitment to Our Employees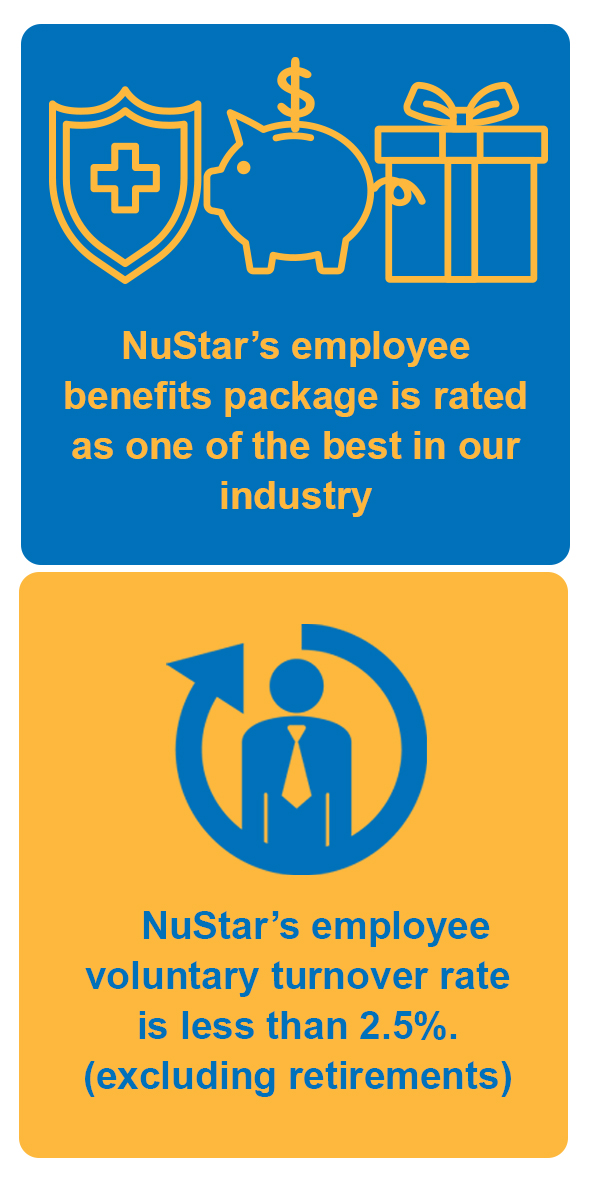 We strive to make NuStar a safe, positive, inclusive and rewarding workplace, with competitive compensation, benefits and health and wellness programs and opportunities for our employees to grow and develop in their careers. NuStar is committed to the concept and practice of equal opportunity and affirmative action. All qualified applicants will receive consideration for employment without regard to sex, gender identity, sexual orientation, race, color, religious creed, national origin, physical or mental disability, protected veteran status, age, genetic characteristics, or any other category protected by federal, state, or local law.
We believe that if you take care of the employees, the employees will take care of the company, our unitholders and our communities. One way we take care of our employees is through our health and welfare benefits package, which has been rated as one of the best in the industry by McGriff. In fact, these benefits are valued at 36% of an employee's salary, which means our employees receive approximately 36 cents in benefits for every dollar in pay. The company offers an extensive menu of benefits, including everything from medical, dental and vision plans, to life insurance and survivor income. And an employee's NuStar Provided Dollars -- the flex dollars that the company provides above and beyond base salary -- cover the basic benefit costs for the employee and his/her family. So employees have a lot of different choices, great flexibility, and the security that they need – without having to invest a dime in their basic benefits package.
At NuStar, our culture revolves around our nine guiding principles: safety; integrity; commitment; make a difference; teamwork; respect; communication; excellence; and pride. We believe that these principles are the building blocks for NuStar's success and have helped us to recruit and retain our employees and make NuStar a great place to work. NuStar has been recognized on FORTUNE's "100 Best Companies to Work For" list 12 times and FORTUNE's "Best Workplaces for Millennials" five times. We have also been recognized as a top employer by regional and local publications, many of which base their determinations primarily on confidential surveys of our employees.