Renewable Fuels
NuStar's West Coast Renewable Fuels Distribution System Continues to Grow
At NuStar we have established ourselves as an early mover in the renewable fuels transportation market by developing and completing a number of renewable fuels storage projects. These projects, in partnership with our customers on the West Coast, have allowed NuStar to grow our distribution system and build on relationships with key global producers.
Our facilities are positioned to benefit from new production and conversion supply projects for renewable diesel, renewable jet fuel, ethanol and other renewable fuels as the renewable fuels market continues to grow.
As such, NuStar handles and stores a significant proportion of the total low-carbon fuels volumes utilized in California, the largest driving state in the nation.
NuStar's Proportionate Share of California's Renewable Fuels Market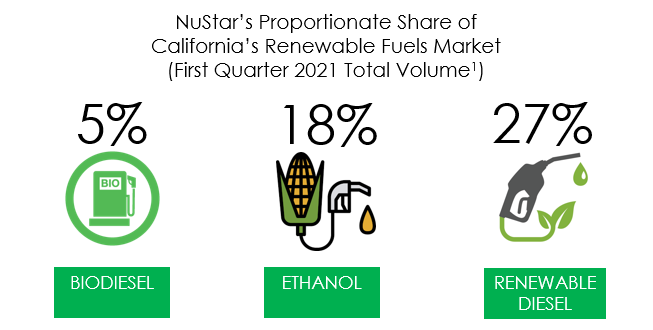 We expect these percentages to continue to grow, along with associated EBITDA, as we complete additional projects, under construction or in development.
1 – Most recent available data
Source: California Air Resource Board (CARB)